A December Bride
Layla dreams of a Christmas wedding. She almost got it, too, but those plans fell apart when her friend, Seth, introduced Layla's fiancé to another woman. Now she's caught up in an elaborate rouse – pretending to be engaged to Seth – to save face with her family and jumpstart her career. But will the layers of lies lead her to true love?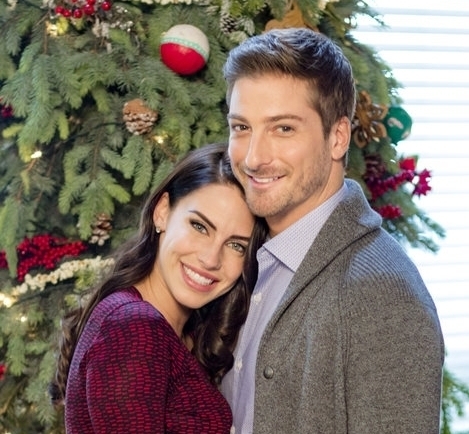 PR/Event Planner/Decorator
Hate Becomes Love
Contest as Plot Device
Charity Work
Deceased Parent
Tree Buy &Trim
Public Domain Xmas Music
Sleigh Ride
Ends w/ Kiss or Ring
Our Thoughts
"Take a drink!" You'll enjoy this movie even more if you yell that direction to your fellow viewers every time you hear the phrase "A December Bride."
The movie kicks off with a simple premise that's hard to put into words: Layla (Jessica Lowndes) is guilted into attending the wedding of her practically-sister cousin to Layla's former fiancé…yet that's barely necessary for the plot. Instead, we watch Layla fake an engagement to workaholic Seth (Daniel Lissing) to advance her home-staging career via the Holiday Tour of Homes (what we'd consider a Contest as Plot Device). And those details only get you through the first 30 minutes of the movie.
Despite the myriad of plot devices, and a solid 9 Christmas Clichés, this movie somehow makes them seamless. The horribly sung Public Domain Xmas Music is nonetheless endearing, and Layla's need to be a December Bride (take a drink!) like her Deceased Mother manages to avoid the expected sappiness. The connection between the fake fiancés also builds with romantic, quickly paced, and "Christmas-y" (a Seth phrase) scenes, so that by the time they decide to fake a break-up, you're rooting for their plans to go awry.
In total, the movie is a bit like Layla's home staging design: it's warm, traditional, a bit unbalanced, but true to the spirit of Christmas.
Rob's Final Take: Merry
I wish there was something more original in the story, but I'm hard-pressed to name a character who loves Christmas as much as Layla.
Jess's Final Take: Merry
Ignoring the references to a "December Bride," the latter half sold me. Family, Christmas decorations, and unexpected love made me tear up in the end.