Northern Lights of Christmas
Zoey wants to buy an airplane and start her own charter flight business, and she might finally have the money to do it when she inherits her uncle's Alaskan ranch. But her dreams fall to earth when she meets Alec, a handsome ranch hand who has his own ideas about the estate's future. Will he keep her dreams grounded…or help get her head out of the clouds and chart a new course?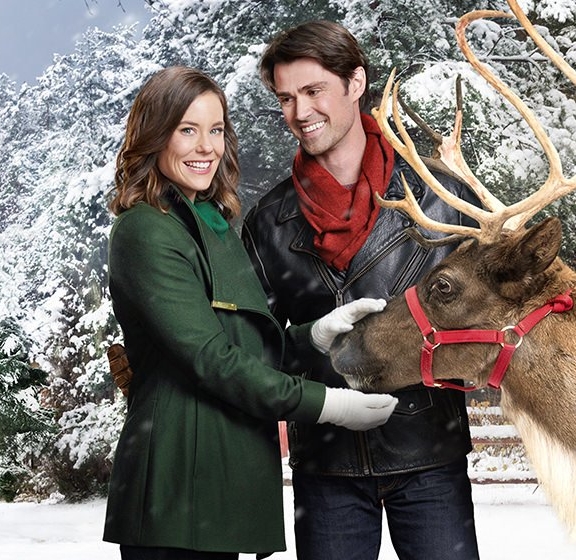 Opens w/ City Scene
Career-Driven Woman
Reindeer
Small-Town Guy Who Works w/ Hands
Hate Becomes Love
Tree Buy & Trim
Deceased Parent
Ends w/ Kiss or Ring
Our Thoughts
Is it possible for a movie to wrap up too perfectly? Can a leading lady be too earnest? Can a Small-Town Guy Who Works w/ Hands be too handsome?
That's the essence of "Northern Lights of Christmas": too much of everything good and not enough of a reason to tell a story. Rarely are we cynics while watching our favorite movie genre, but we had to fight our urge to mock the overt positivism and lack of conflict.
It's still a good flick, though.
Career-Driven pilot, Zoey (Ashley Williams, really smiley), wants her own plane. So when she inherits a ranch in Aurora, Alaska, the town where she grew up, her only focus is a quick sale and an upcoming plane auction. Her homecoming is filled with on-the-street hugs and hopes she'll stay through Christmas…except from the prepaid ranch hand, Alec, who's turned off by her lack of care for what happens to the two Reindeer who live there.
Wanting to keep Alec through the winter, Zoey makes him a Hate Becomes Love deal: he has veto power over who buys the ranch. He agrees, helping her fix up the place and get it ready for Zoey's revival of the Christmas Festival that went defunct a few years back.
We love when a movie embraces the holiday season. In this one, the town is ecstatic for the festival to come back, and everyone pitches in to provide the food, decorate trees, or run a stand. But something felt off. There is no Evil Fiancé or Corporation who acts as a Scrooge that we could root against. And even though Alec never grew up with a Christmas Tree, he doesn't hate the season. There is no balance to the blatant goodness, so we ended up manifesting it as viewers. (A hotel conglomerate is totally fine replanting the romantic evergreen trees as a part of the sale? Sure…that sounds plausible.)
Where we could connect with the film is the reindeer. They act as a reminder to Zoey that the ranch sale is more than a transaction—it changes the lives of others, whether human or animal. Plus, during the storyline of Palmer the Reindeer constantly escaping to the airfield, Jess knew it could be because he had a girlfriend.
Seek out this film when you're in a good mood. Otherwise, the sickeningly sweet leading lady, poor CGI northern lights, or the debit card product placement (don't ask) might push you over the edge.
Rob's Final Take: Not Very Merry
I enjoyed Ashley Williams's pluckiness but, like the rest of the movie, she was just way too earnest. We needed a dose of naughty to balance all the niceness.
Jess's Final Take: Merry
If it wasn't for the reindeer love story, I might not have warmed to this movie. It's borderline boring…but I can't resist a smoldering ranch hand who cares so much about our furry friends.