Pride, Prejudice, and Mistletoe
Darcy is a pro at selling stocks and bonds, but the rest of her life isn't performing as well. Newly single and fighting for her job, she heads home to Pemberley to help plan the town's charity event, working side-by-side with an old rival. Can they put past grievances aside and make the event a success…and find love along the way?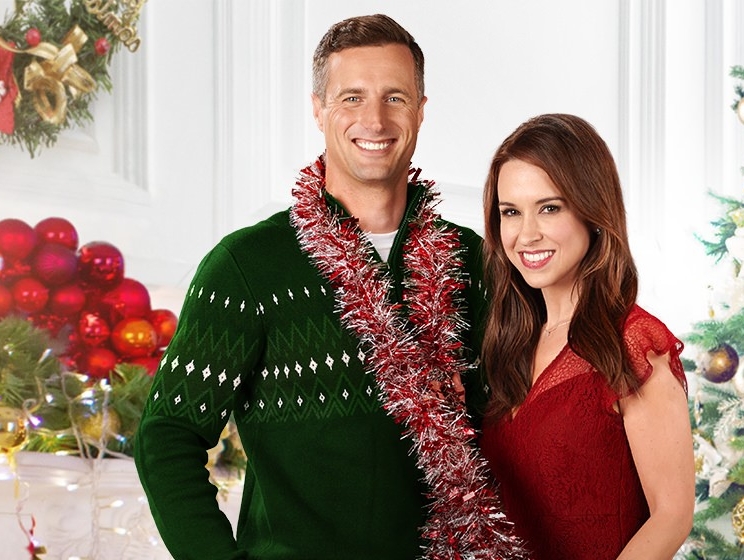 Opens w/ City Scene
Lacey Chabert
Career-Driven Woman
Evil Corporation
Charity Work
Small-Town Guy Who Works w/ Hands
Hate Becomes Love
Tree Buy & Trim
Public Domain Xmas Music
Ends w/ Kiss or Ring
Our Thoughts
It's not a boring or painful movie, and there are a few bright spots…but we question if we'll even remember it when we recap the season.
Career-Driven Darcy (Lacey Chabert, earning her spot on our Christmas Cliché Bingo) takes a holiday break from her investment banker job to help her well-to-do family host Pemberley's annual Charity Auction. When everyone backs out at the last minute (seriously, everybody—what a flaky town!), Darcy's high school rival joins as caterer and helps execute the event. Hate Becomes Love and multiple Tree Buy & Trim scenes move the plot along until the big event arrives.
With Lacey in 95% of the scenes and many cliché boxes checked, it has the makings of a Hallmark classic. The spark of Christmas, though, is missing. As is a central conflict to drive the plot.
The rivalry between leads is flirtatious banter off the bat, and Darcy doesn't even seem interested in her lingering ex-boyfriend, so no real drama there. Plus when the potential risk of canceling the auction occurs halfway through the movie, you know the problem will be resolved before the next commercial break. The only Christmas-like plot point is buried in the Evil Corporation—Darcy wants to take on clients without requiring minimums…a very monetarily based warm-hearted plot device.
We also must mention the few moments where we laughed out loud but not by design. Our favorite leading man from "A Very Merry Mix-Up" plays the supporting brother, but as a memorable household figure, his few, stunted lines, like "Eyes on the prize, Luke," evoked guffaws from both of us. And the potential child labor concerns over the Pemberley Children's Centre choir singers doubling as cater waiters made us challenge the holiday tone the screenwriters were attempting.
It's something to play in the background or have on any Christmas Cliché Bingo party list. But it's not unique enough to distinguish from others: "It's the one where they're holding a charity auction that's at risk of not happening…"
Rob's Final Take: Merry
Lacey was lovable, but even her Christmas charm couldn't salvage this plot-less, drama-less flick from the ranks of mediocre merriment.
Jess's Final Take: Merry
If it wasn't for my gal Lacey, it would have been dull. When the plot is purely about pulling off a party, Christmas gets diluted and you question the merit of the movie.
Details
Watch It On: Hallmark
Starring: Lacey Chabert & Brendan Penny