The Flight Before Christmas
Stephanie and Michael planned on spending the holidays with their significant others. But when a storm diverts their flight to Montana, they can either spend the night in the airport or share the last hotel room in town. Will they get back in the air to the ones they care (about)… or will this layover help them check their relationship baggage?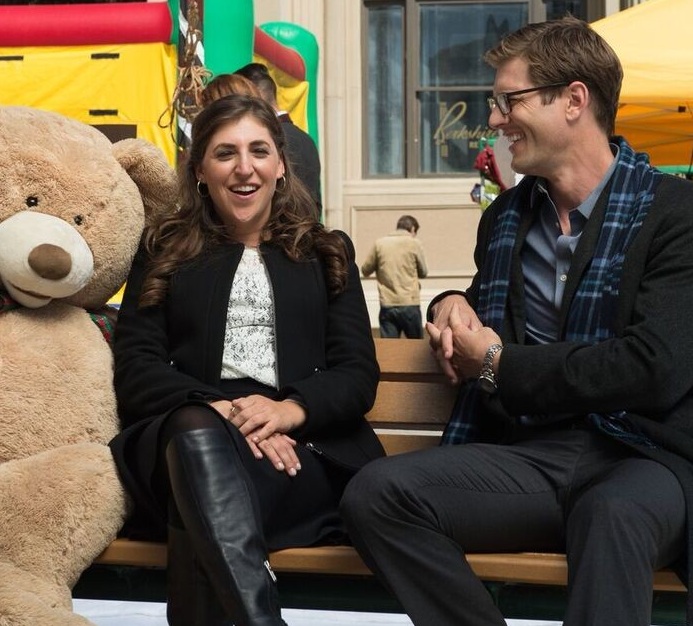 Opens w/ City Scene
Career-Driven Woman
…Santa?
Hate Becomes Love
Sage Grandpa Figure
Ends w/ Kiss or Ring
Our Thoughts
If you enjoyed "A Christmas Detour," you'll…see the similarities to "The Flight Before Christmas." A flight-delaying storm. Two people who clash on relationships but connect in a small, Christmas-y town. Dashing leading men whose jawlines almost distract from their words.
Yep, they have pretty much the same plot. But this Lifetime flick, which came out in the same year, is the realistic, less-upbeat sibling to the Hallmark CCB version.
We do get a …Santa? character in this one, though. That's a plus.
Moving in with her boyfriend over the holidays, Stephanie (Mayim Bialik, who'll always be Blossom to us) is skipping Christmas on the east coast. Too bad she's dumped before the big move occurs, leaving her alone, homeless, and searching for a last-minute flight to be with her family.
We also meet Michael (Ryan McPartlin, stupidly good looking), who's headed home to Boston to see his long-distance girlfriend of 5 years. He is settled on proposing, because "loyalty," but can't decide on a ring.
Both leads arrive at the airport, verbally wishing for clarity and commitment. A perfect moment for …Santa? to overhear and interfere.
Michael winds up giving white-bearded Noel his first class seat and is thus seated next to bitter, talkative Stephanie. Their debates are interrupted by some frightening turbulence (why do we need to see that? These movies are supposed to be escapist!), and a storm grounds them in Bozeman, Montana. With no hotels open, Noel gives Stephanie the name of an Inn and encourages her to "pay it forward." She begrudgingly invites Michael to share her suite, kicking off the effective Hate Becomes Love dance of our city dwelling characters.
The nearby airport town hosts an annual Christmas Fair, complete with games and a Christmas Eve Dance. It's only in these brief scenes that our characters even discuss the holiday, but they quickly veer to their shared interests/locations in LA. You will find their connection genuine, though, especially during the awkward bathroom-slash-towel scenes where they give each other some knowing looks.
What doesn't quite work through the movie is the realistic nature of the characters. The Evil Fiancé is more annoying than conniving, and Stephanie's constant mention of her ex shows how recent her wound is. And though there is a sprinkle of magic from Noel and good insight from the innkeepers (the parents from "Family Matters"!), those scenes don't carry the lightness we crave from the genre.
It's a watchable and unique option. But when Christmas Day proper is a mere musical montage and you don't get your characters' conclusion until New Year's Eve, it's tough to consider this movie near the top of our Christmas viewing list.
Rob's Final Take: Merry
There wasn't much Christmas magic but this was a solid Merry movie. Dare I say even better than its CCB counterpart? Just don't tell my wife I said that…
Jess's Final Take: Merry
I'll probably watch it again, so I can't call it "Not Very Merry." But be warned: there is minimal Christmas and little joy. It's the characters' chemistry that sucked me in.